CA Foundation | CA CPT December 2014 Exam toppers
This article consists all the details on ca cpt topper list for Dec 2014, CA CPT topper marks, CPT  toppers registration no and details on previous year toppers.
For all CPT Topper related up to date information, please visit the following article –
Find below the list of toppers declared for the CA Foundation | CA CPT December 2014 exams.
Panasa Viswesara Rao, Vijayawada, 188
Pranav Pratik Tulshyam, Kathmandu, 188
Rohit Kumar Soni, Raipur, 188
Prathi Sai Kiran, Guntur, 186
Yerrasani Manoj Kumar Reddy, Guntur, 186
Malisetty Surya Prakash, Guntur, 185
Bolia Manisha, Vijayawada, 186
Chitthari Mahesh, Vijayawada, 185
CA Foundation | CA CPT December 2014 Exam toppers with photos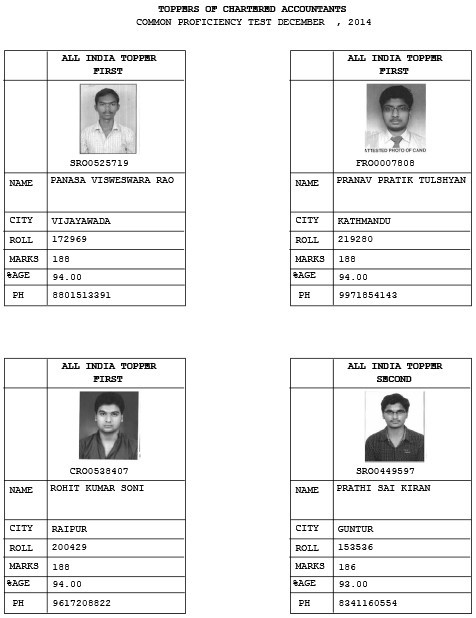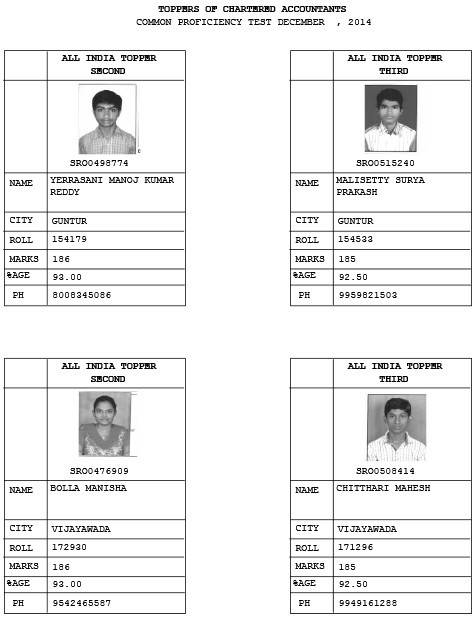 CAKART wishes all the best to the toppers.
At CAKART (https://www.cakart.in) you will get everything that you need to be successful in your CA CS CMA exam – India's best faculty video classes (online or in pen drive), most popular books of best authors (ebooks, hard copies), best scanners and all exam related information and notifications. Visit www.cakart.in and chat with our counsellors any time. We are happy to help you make successful in your exams.